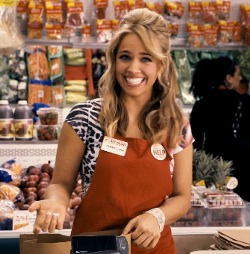 Tami-Lynn (born in the 1970s) is a character in Ted. She is Ted's love interest, girlfriend and wife. In all two films, she is portrayed by Jessica Barth.
Ted (2012)
She wasn't seen when Ted started to work at the grocery store where Ted fall in love with her for the first time. Later they have sex at the produce and they're started to date each other.
At the end of the film, Ted and Tami-Lynn are seen attending John and Lori's wedding and a now-reformed Tami has become friends with Lori.
As well, the narrator revealed that Ted continued his affair with Tami-Lynn and gets promoted to store manager after getting caught eating potato salad off of her butt.
Ted 2 (2015)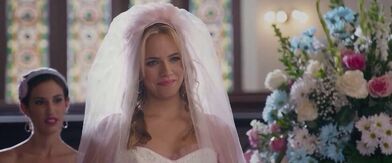 In Ted 2, Ted and Tami-Lynn are married after the first movie. One year later, their marriage is beginning to break-down as they fight constantly. Ted and Tami-Lynn decide to have a child to attempt to preserve their relationship.
Since Ted is incapable of reproductive functions, he goes to John for help.
Ted and John attempt to get a sperm donor, and ultimately, Ted accepts John's donation offer. Unfortunately, Tami-Lynn is infertile, having ruined her ovaries through excessive drug use.
Tami-Lynn and Ted's inquiries into adoption draw attention to his status as property, resulting in the loss of his job and financial accounts.
Furthermore, Ted's marriage to Tami-Lynn is annulled. John suggests that they take the situation to court. Since they cannot afford a lawyer, their case is assigned to a novice lawyer, Samantha Leslie Jackson.
At first they are reluctant to work with her, feeling she is too inexperienced but they quickly change their minds when they discover that she shares their love of marijuana. The three bond as they prepare to present the case.
She wasn't seen until at the hospital where Samantha, Ted and Tami-Lynn rejoice when John is revealed to be fine. Patrick Meighan enters and tells them he has been inspired to reconsider taking the case because John was willing to risk his own life to save Ted.
Meighan gets the ruling overturned because Ted is self-aware, feels complex emotions, and is capable of empathy. A reporter asks if Ted has any words to say as a person for the first time, so Ted re-proposes to Tami-Lynn.
After they are re-married, Ted adopts the surname of "Clubberlang", and he and Tami-Lynn adopt a baby boy whom they name Apollo Creed Clubberlang.
Community content is available under
CC-BY-SA
unless otherwise noted.