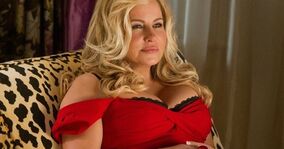 Stifler's Mom (real name Jeanine) is the love interest of Paul Finch and the matriarch of the Stifler family in the American Pie film series. While not a prominent character, she is considered famous for being the poster-girl for the term MILF.
Biography
Very little is known about Stifler's Mom apart from the fact that she's divorced. She enjoys a hedonistic lifestyle, frequently shown drinking and showing off her wealth. Despite her reputation for sleeping with Finch, Stifler believes that his mother is a saint and she's the one person Stifler can't bully. In all four American Pie movies, we never see Stifler's Mom interact with anyone who doesn't sleep with her at some point, apart from a phone conversation she has with Stifler in the fourth film.
Romances
Paul Finch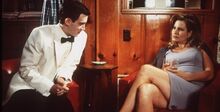 Finch was left without a date for the prom when Stifler humiliated him in front of the whole school. Finch ran into Stifler's Mom and they started talking. Finch takes a liking to her and they have sex. Stifler finds out and is horrified.
A year later, Finch has grown tired of all the one-night stands he's had through college and wants to sleep with Stifler's Mom again. He practices tantra in the hopes of improving his game, but is disappointed that Stifler's Mom isn't coming to the beach party his friends are throwing. It isn't until the summer ends that he sees Stifler's Mom and they have sex again, once more horrifying Stifler.
Finch moves on after this, having at least one more fling with Stifler's Mom at Jim and Michelle's wedding. This is confirmed in Reunion in which he did nice trying anything when Stifler looked at him sternly.
Noah Levenstein/Jim's Dad
Jim's Dad encounters Stifler's Mom during the high school reunion. His own wife had died some years earlier and Jim had told him he should move on, so he starts flirting with Stifler's Mom and it turns out that they have more in common than it seems. They then start dating and at a movie, she is flattered by his gentlemen ways, as all she wanted was to be treated with respect.