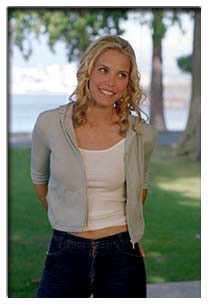 Stephanie is the love interest of Gordon Smith in See Spot Run.
She's played by Leslie Bibb and she later played another character in another movie called Zookeeper, but same name and she's arrogant, but rich person.
Her story
She wasn't see after Gordon came to give her son James a dog toy and she's dating with a police officer name Ricky.
Later on, she was leaving on her business trip and worried that her babysitter Daisy will be late to watch over her son. Instead Gorden has volunteered to take care of James after Daisy called him that she's sick with food poisoning.
During the movie, she called 4 times like she's not coming until the next 2 days or so.
The next day, she finally came home and very upset with Gordon for what had happened, but James convinces Stephanie that Gordon is a good guy and they end up together at the end
Community content is available under
CC-BY-SA
unless otherwise noted.