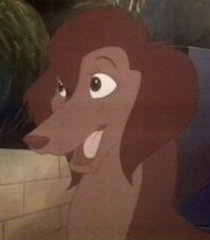 Sasha La Fleur is the love interest and girlfriend of Charlie B. Barkin in all of the All Dogs Go to Heaven media except the first film, during which she didn't appear; she only debuted in the second film. She is half-Saluki and half-Irish Setter hybrid mix. Sometimes she is also the crush of Carface Carruthers, but that is to a lesser extent. She is voiced by Scottish singer Sheena Easton (who is best known for the song, "For Your Eyes Only" from the James Bond film of the same name).
Gallery
Trivia
Sasha's last name "La Fleur" is French for "the flower."

Of course, some fans refer her last name to as "Le Fleur," but this is an error because "le" is a masculine article, and "fleur" is a feminine noun.