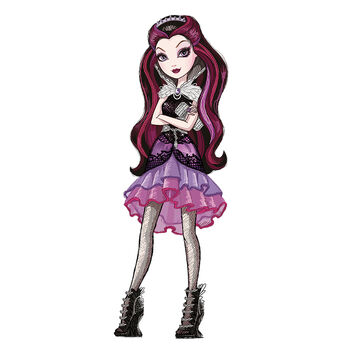 Raven Queen is the love interest of Dexter Charming in animated TV series Ever After High.
She's seem to be evil like her mother, but she's not evil at all and doesn't seem to want to be the villain of the story, she's also unaware of Dexter's feeling, because she seem more interested in Daring. Dexter tries to win her heart by multiple occasion, but he seem to shy to tell her, Raven receive his poem, but she believe it was Daring who write it. When Daring told her he never write her a poem, she realize it was Dexter who write the poem for her, she finally developed feeling for him in the True Hearts Day special, but when she see Cupid with Dexter she feel sad believing he finally make his choice.
Later they finally go on a date, she was nervous and doesn't control her power, she finally admit to Dexter she was nervous for the night of their first date, Dexter tell her he was nervous too, when the movie started it seem Dexter and Raven finally have feeling for each other.
Community content is available under
CC-BY-SA
unless otherwise noted.