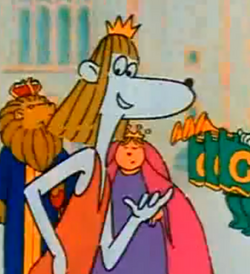 Princess Sylvia
is the love interest of
Bob the Gardener
from the animated British film,
Muzzy in Gondoland
. She is voiced by Susan Sheridan (who also voiced
Eilonwy
in
The Black Cauldron
).
Corvax
, the main villain also has a crush on her. She first met Bob, while Sylvia is at the garden and the two begin to fall in love. However, her parents, King Nigel and Queen Ezra become outraged and Bob is thrown in jail. After Bob first meets
Muzzy
, Corvax decides to make duplicate versions of her, but the duplicates strongly dislike Corvax and the original Sylvia. After Muzzy releases Bob out of his cell, Bob and Muzzy try to find her and Sylvia also tells the two to wait in the tool shed. King Nigel discovers that the Sylvia duplicates are coming from upstairs and decides to investigate. Sylvia, Muzzy and Queen Ezra rescue King Nigel and Muzzy rearranges the computer programs as Bob returns with Corvax as she and Bob are finally reunited as the two both have romantic feelings for themselves. Corvax gets trapped in the computer as King Nigel approves their union and Muzzy sends all of the Sylvia duplicates back into the computer. By the end of the film, she and Bob get married as Muzzy leaves Gondoland in his spaceship. In the sequel, she and Bob have a baby girl named Amanda as she, Bob and Muzzy rescue her from Corvax to save her kingdom once again.
Community content is available under
CC-BY-SA
unless otherwise noted.