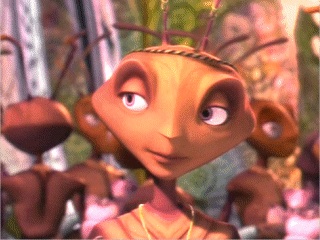 Princess Bala is the deuteragonist of Dreamworks' 1st animated feature, Antz. She is Z's girlfriend and Mandible's former fiancé.
Her story
The daughter of the Ant Queen, she is expected to follow royal responsibilities but wants to be free.
When she sneaks out of the palace and comes to a bar she came across Z, they share a dance and their relationship grew and blossomed and before she leaf Bala kissed him on the cheek whispering come by the wall and let's meet up. As night fell, Bala and z meat up where he realised she was the princess and was about to bow when she tells him to claim down and come and when they are in her room and locks the door she kisses z on the lips and the two soon make out on her bed and she soon tells him of her evil fianće General Mandible plan and help Z save the colony later they return to insectoudopia and after sharing another dance the ants kissed and Bala asked by the way how big your member lets check and they started mating happily. She was voiced by Sharon Stone.
Trivia
Bala is the second love interest in a computer-animated film after Bo Peep from Toy Story, which was the world's first computer-animated feature film ever.
See Also
Community content is available under
CC-BY-SA
unless otherwise noted.