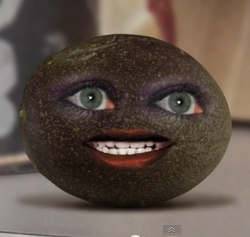 Passion Fruit is the love interest of the titular protagonist in the Annoying Orange web and TV series. She is sometimes part of the main group. She is paired with the Annoying Orange and Pear sometimes. She is very smart and helpful. She is shown to have a crush on Orange in both series. She is voiced by IJustine.
Relationships
Orange
Orange and Passion are good friends and they have a crush on each other. However, they are unaware of this as they are nervous to tell each other. Orange has managed to keep his true feelings for her a secret, even from the fans but sometimes pressured to reveal it.
Grapefruit
Trivia
It is unknown if "Fruit" is Passion's last name.
Her eyes are rounder in the TV series than they are in the web series.
She kissed Orange on the Cheek twice in the TV series. The 1st time was in "Food Carnival" and the second was in "Defending Your Fruit Cart" Part 2.
Grapefruit has eyes for her as well as Orange does.
Orange has a crush on Passion Fruit and always denies that he does. In one Ask Orange episode, he becomes Pinocchio and is unable to deny that he does have a crush on her, knowing that the audience and crew can tell that he's lying.
Community content is available under
CC-BY-SA
unless otherwise noted.