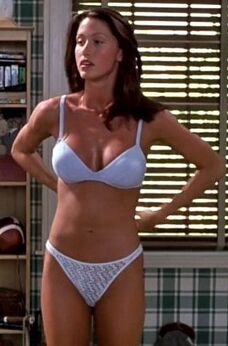 Nadia was Jim's initial crush in the first two American Pie films.
Biography
American Pie
Nadia is an Eastern-European exchange student that was considered one of-if not the-most desirable girls in school. Jim awkwardly tried to get her attention and failed each time. Opportunity knocks when Nadia asks Jim if she can study at his place. As if that weren't enough, she also mentions changing clothes at his place, his friends then prompt Jim to record the whole thing and send it to them over the internet. Jim manages to film Nadia stripping down to her panties. Jim's friends then convince him to go and proposition her. When Jim does, Nadia manages to turn the tables and demands Jim to do a strip tease. When Jim is down to his underwear, he finds himself far too anxious and winds up climaxing as soon as he touches Nadia. The video of Nadia went viral and she was forced to go home. She later is seen watching Jim as he strips once more, on a computer in her home, to try to make her horny again.
American Pie 2
Nadia returns to America and calls Jim. Jim, now anxious about getting a second chance with her, rents a beach house and goes to his old flame Michelle for advice. When Nadia arrives, Jim musters up the confidence to spend the night alone with her. Jim then realised that his feelings for Nadia had passed since finishing high school and he now wanted a more meaningful relationship. He gently lets her go and persues Michelle, while Nadia rebounds with the local geek Sherman "The Sherminator".
Reunion
Nadia appears at the high school reunion just as Jim and Michelle were about to have sex. With her is her latest boyfriend who bears a strong resemblance to Jim, implying that she had a type or was still attracted to him.
Love Rivals
Michelle was Jim's second choice for the prom after Nadia left high school. While Michelle left after sleeping with Jim, Nadia tried staying in contact with him, up to the end of their first college-year. Michelle pretended to be Jim's girlfriend as a way of making Jim look more desirable. When Michelle fake-dumped Jim so he could get with Nadia, he realised that he had fallen in love with Michelle and as such was no longer attracted to Nadia. Nadia apparently didn't even remember Michelle's name, referring to her as "the band-geek".
Community content is available under
CC-BY-SA
unless otherwise noted.