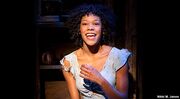 Nabulungi is the daughter of Mafala, and the love interest of Arnold Cunningham, in,  The Book Of Mormon. She dreams to one day go to Sal Tlay Ka Siti. She believes everything Elder Cunningham says about the Book of Mormon and what it can do. Of course Arnold messes up her name when he talks to her, and he's incredibly awkward, but she's developed feelings for him in their few days together and wants to help him and the others elders for their job. But her heart is broken after she finds out her and her people will never get to be Mormons, according to the Mormon President, who comes to Uganda and sees the play she and her people have performed, which feature the teachings Arnold has used. He had used metaphors instead of the normal transcripts, making it seem as though they are making fun of the Mormon religion instead of joining it. She returns to her village, leaving all of the elders behind. Upset that Cunningham had lied to impress her, she confides in her villagers, who explain that the metaphors were metaphors, not things that actually existed. Just then, General Butt Fucking Naked appears and threatens their lives, Cunningham and Price both appearing to kick him out of the village. She forgives Arnold, now understanding that there had been a miscommunication between them, and she and the rest of her villagers, along with the Elders, determine that they will always stay "Latter Day Saints," even if the Missionary President disagrees with them. At the end of the musical, it is shown that she and Cunningham could be able to get together, as they have many more happy days fixing up their village ahead of them.
Community content is available under
CC-BY-SA
unless otherwise noted.