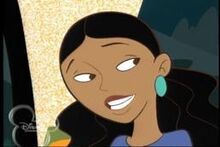 Monique[4] is Kim Possible's best girl friend. She was voiced by Raven-Symoné and once the love interest of Wade
Personal history
Nothing is known about Monique's life before she moved to Middleton and transferred to Middleton High School.
Kim met her at Club Banana in the Middleton Mall, which is their favorite store, and Monique gets promoted to assistant manager in "Fashion Victim." Sadly, her last name was never revealed.
Relationships
Kim's her best friend and now co-worker at Club Banana. She's also friends with Ron Stoppable, with whom she shares an interest in professional wrestling.
Monique seems to dislike Bonnie Rockwaller, Kim's archrival, because of her snobbish attitude.
Romantically, she has a lot of first dates. She describes herself as unable to maintain a relationship,and seemingly seeks a stable relationship with a young man who isn't a total weenie.
She was seen getting friendly with Brick Flagg at the end of the Junior prom, but nothing came of it, as he graduated later that year.
She recently had to spurn the advances of a smitten Wade, who was rejected because of his age and his decision to use emotion-manipulation on her. Ned seems to be interested, but sadly she's not.
Community content is available under
CC-BY-SA
unless otherwise noted.