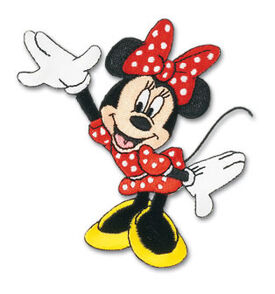 Minerva Mouse, better known as Minnie Mouse is the love interest and girlfriend to the most famous animated mouse in the world, Mickey Mouse.
Created in 1928 by Walt Disney and Ub Iwerks, her first appearance was in Plane Crazy, which was created before Steamboat Willie as a silent film but not distrubuted until 1929 with sound added.
She has appeared in many shorts, often a damsel-in-distress, often kidnapped by Pete or someone else. However she did not make as many appearances in the second half of the thirties with the introduction of Donald Duck and Goofy. Her comeback came when she played Mrs. Cratchit in Mickey's Christmas Carol, which aired in 1983.
Mickey's rival, Mortimer Mouse, has an interest in her and has gotten to date her a few times before she realized how much better Mickey is for her.
She appears in the Kingdom Hearts franchise as the queen of Disney Castle, making her Mickey's wife.
Gallery
Community content is available under
CC-BY-SA
unless otherwise noted.