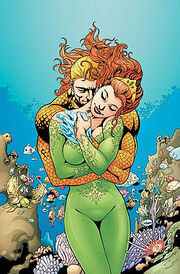 Mera is the love interest of Aquaman from the Aquaman comics.
Love Rivals
Wonder Woman (Flashpoint)
In the Flashpoint timeline, Mera and Arthur were already married, but when the Atlanteans formed an alliance with the Amazons, Arthur and Diana had an affair. Mera found out and attacked Diana, only to be killed by the far more combat-savvy Amazon. Aquaman finds out and his lingering feelings for Mera caused him to end their alliance. Wonder Woman wore Mera's headpiece as a trophy to spite Aquaman as they waged war.
In Other Media
Aquaman (2018)
Mera alerts Arthur to his half-brother's plan to wage war on the surface world. They seek council from Arthur's trainer Vulko, who tells them they need to retrieve the trident of Atlan in order to maintain balance between Atlantis and the surface world.
As Arthur and Mera travel across the Sahara and Sicily trying to find clues to the trident's whereabouts, Arthur begins to warm up to Mera. They look out for each other during several close encounters and surprise each other with their resourcefulness. When he asks her why she wants him to be king, Mera states that as Arthur is a mix of surface-dweller and Atlantean, he's the one who sees the best in both worlds.
Mera catches onto Arthur's growing feelings for her and gives him a kiss during the film's climax. With Arthur established as the king of Atlantis, it's assumed he'll marry Mera eventually.
Community content is available under
CC-BY-SA
unless otherwise noted.