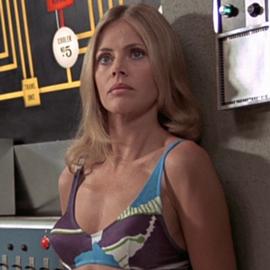 Mary Goodnight is the love interest of James Bond from the James Bond film, The Man with the Golden Gun. She is a Secret Service staffer. She first meets Bond after she shows him where Miss Anders is staying, she presumably hopes to spend the evening with Bond. However, Bond refuses, due to his meeting with Hai Fat. Later on, Goodnight was pushed into the wardrobe of Bond's hotel room when Miss Anders entered Bond's bedroom. She falls asleep in the closet. She becomes cold towards Bond when interacting with him at Scaramanga's presence. She takes control of the Solex, but she was pushed into the trunk of the car by Scaramanga. Bond eventually meets up with her on Scaramanga's island and knocks the maintenance man into a pool of liquid helium. She and Bond escape after they deal with Nick Nack. Goodnight decides to finish what she had started with Bond aboard Scaramanga's personal Chinese Dhow at the end of the film.
Community content is available under
CC-BY-SA
unless otherwise noted.