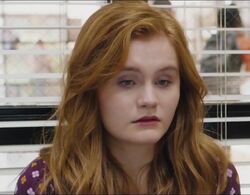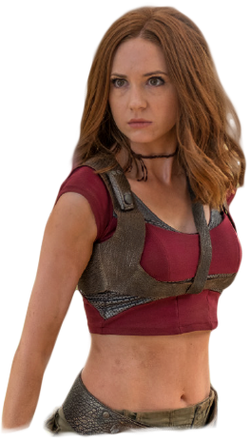 Martha Kaply is the love interest of Spencer Gilpin from Jumanji: Welcome to the Jungle. She is portrayed by Morgan Turner and Karen Gillan as Ruby Roundhouse.
Her Story
She is first seen receiving detention for refusing to participate in gym class and being rude and disrespectful to her gym teacher. She is forced to clean the basement during detention along with Spencer, Bethany and Fridge. While removing the staples from the old magazines, Spencer begins to have feelings for Martha after telling her that it really smart to say that gym class stinks and Martha blushes.
After discovering an old video game called "Jumanji", she decides to choose "Ruby Roundhouse" as her avatar and is sucked into the video game.
She and her friends learn from Nigel that a jewel has been stolen by Russel Van Pelt they must return a jaguar statue and call out "Jumanji" in order to finish and leave the game.
While trying to complete the game, they learn that they only have three lives.
She and her friends decided to work together to find a clue.
They are encountered by a fifth player named Alex, who was sucked into the board game twenty-years prior.
She and Spencer tried to return the jewel to the statue, but Martha ends up going to a dead end as she shows her feelings for Spencer as she gives to jewel to him.
After finally finishing the game and Russel is distinigrated into rats, she and her friends return to their normal selves and also return to the real-world, where the past has been altered and Alex is now an adult.
Towards the end of the film, Martha confesses his love for Spencer and two began to kiss before the four decided to destroy the game with a bowling ball and start a better life.
Community content is available under
CC-BY-SA
unless otherwise noted.