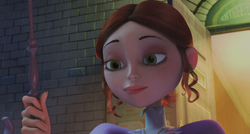 Lucille is one of the main characters of the animated CGI comedy romance musical, A Monster in Paris. She is a famous singer and performer of her Aunt Carlotta's club, The Rare Bird. She is also best friends with Francour and is the main love interest of Raoul.
A Monster in Pairs
Lucille is a successful and famous singer in Paris, well known for performing at her Aunt Carlotta's club, The Rare Bird.
Relationships
Raoul
Raoul is one of the main characters of the film and is Lucille's main love interest and childhood friend. Lucille and Raoul first met each other in the first grade when they were children. When Raoul was playing with his toy truck it accidentally bumped into Lucille, taking notice Lucille and Raoul met each other for the first time. However, Lucille decided to take away Raoul's toy truck and upset, Raoul runs away crying while Lucille hides behind a tree. Since then, Lucille and Raoul have grown up together and apparently don't get along with each other, constantly bickering and fighting with each other. However, unknown to Lucille or Raoul, both of them are actually secretly in love with each other ever since the day they met as children. Lucille simply took the toy, hoping Raoul would come to reclaim it, hoping they would get to spend more time together instead it backfired. Despite their constantly bickering and fighting with each other, it's simply a way for them to hide how they truly feel about each other.
Victor Maynott
Victor Maynott is the Police Commissioner and main antagonist of the film who harbours a villainous unrequited love for Lucille. Commissioner Maynott is well known for visiting Lucille's club, The Rare Bird, happily watching Lucille Performing and desires to marry her. Lucille's aunt Carlotta realizes Commissioner Maynott's affection for Lucille and when Lucille receives an invitation for tea together the next day, Carlotta encourages her niece to marry the Commissioner. However, Lucille doesn't return his feelings, viewing him to be pompus, boring and overall not her type. Despite her feelings, Lucille's aunt Carlotta persuades Lucille to join Commissioner Maynott for tea and encourages Lucille to give him a chance, believing because of his success, he is perfect for Lucille.
Gallery
Trivia
Lucille develops a close friendship and bond with Francœur, the Monster of Paris who becomes her singing partner.
Lucille and Raoul are the main couple of the movie.
Community content is available under
CC-BY-SA
unless otherwise noted.