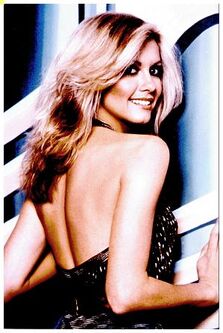 "A place where nobody dared to go
The love that we came to know
They call it Xanadu"
Kira is the love interest of Sonny Malone in the 1980 musical comedy, Xanadu.
Biography
Kira's true name is [Terpisichore]: the Spirit of Dance. She is one of the nine daughters of Zeus, sent to earth to inspire struggling artists.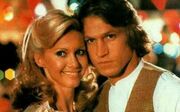 Along the way, she runs into Sonny. She kisses him, causing Sonny to persue her and find out who she really is. He finds her at an abandoned roller disco arena. The arena becomes a place they bond over and they decide to revive it under the name Xanadu. Kira and Sonny fall in love, which presents a problem as her mission was to help Sonny with his dreams and then disappear. When she confesses about her true origins, Sonny is heartbroken. Eventually, Sonny decides that not even the gods should get between him and Kira and he follows her to her realm. Sonny and Kira appeal to her father Zeus that their love is real. Eventually, Zeus decides to give them one day, though whether or not he means a mortal day or a god day is left ambiguous.
Kira performs on Xanadu's opening night along with her sisters. Upon seeing how happy Sonny is and that the future of his new roller disco arena is secure, Kira exits in grand fashion. Sonny is sad to see her go, but then he sees a waitress who looks just like Kira. He goes to talk to her as the film ends.
Trivia
It's left up to the audience to figure out who the woman at the end is. Some say she's Sonny's true love and that Kira was just masquerading as her to bring them together. Others say that she's Kira herself and she's decided to abandon her life as a muse and live as a mortal.