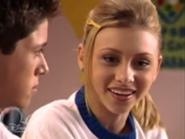 Keelianna (Keely) Teslow (portrayed by Alyson Michalka) is a student at H.G. Wells high school and Phil's best friend in Phil of the Future.
She's the love interest of Phil.
Personality
Keely is a easygoing, bubbly, energetic person and a bit airheaded. At the beginning of the series, she is seen as being part of the popular crowd, yet she proves to have a sweet personality throughout the course of the series.
She says that she wants to be a cat psychologist when she grows up, yet she secretly dreams of becoming a singer.
Stage fright prevents her from pursuing this dream until Phil offers the support and encouragement she needs to gain confidence. Later, she becomes interested in journalism and hopes to become a reporter.
Relationships with Phil Diffy
When they first meet in the pilot of the series, Keely sees him as just a nerd, someone a popular person like her would avoid.
Their friendship begins when she goes to him for help with her algebra homework. A few episodes later, she is shocked to find out that he's from the future, yet she proves to be trustworthy, much to the relief of the Diffys.
Throughout the series, she shares awkward and affectionate moments with Phil, yet it's not until the last episode that they decide to become a couple.
Community content is available under
CC-BY-SA
unless otherwise noted.