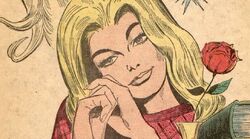 Karen Page is a fictional character in Marvel Comics' Daredevil series, the longest running love interest for the title character. Created by writer Stan Lee and artist Bill Everett, she first appeared in Daredevil #1 (April 1964).
Her story
In her first appearances, Karen is the secretary for the law firm of Daredevil's alter ego Matt Murdock, and the mutual love interest of both Murdock and his partner Foggy Nelson.
Her relationship with Murdock hits a downward spiral when he reveals his secret identity to her in Daredevil #57 (October 1969), setting off a long break-up which concluded with her departure from the series in issue #86 (April 1972). Within these final stories, she trades her profession of secretary to become a film actress.
After three years absence from published stories, Page returned for a considerable stint as a supporting character in Ghost Rider, starting with vol. 2 #13 (August 1975) and continuing through to #26 (October 1977).
During this time, a crossover with Daredevil #138 afforded her a brief return appearance in the series where she got her start. A 1978 appearance in Marvel Two-in-One would prove the character's last showing for over seven years.
Karen Page returned in the award-winning Daredevil #227 (February 1986), in a story that would ultimately restore her earlier role as Daredevil's love interest.
Writer Ann Nocenti gave considerably more development to their relationship, and even had Page acting as a sidekick to Daredevil for the first time in issue #259 which she goes undercover to help take down a child pornography ring. She was again dropped from the series in issue #263 (February 1989) for another long-term breakup from Murdock, but this time was brought back just two years later, for Daredevil #294 (July 1991).
Page is killed by Daredevil's adversary Bullseye in Daredevil vol. 2 #5, (March 10, 1999).
Gallery
Community content is available under
CC-BY-SA
unless otherwise noted.