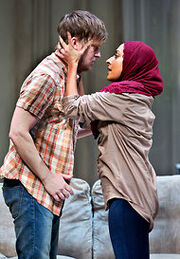 Jerome is the love interest of Yalda in Modern Terrorism (also known as "They Who Want To Kill Us and How We Learn To Love Them"). He was visiting the appartement because the appartement have newcomers. But it was not love at first sight for Yalda and him because she wanted first shoot him. Rehab told her to not do thiis scared this will be bad for them and put them in trouble. Later when Jerome came in appartement again yalda was yelling at him slap himand kissing him and slap him again. When he's taking in hostage he free himself for protect Yalda and Rehab but rehab is killed and he go hide in bathroom. Yalda told him he making a fool of himself and making him go to his own death.
later after he fight with Qalalaase and killed him and leave the appartement with Yalda he meet her in a subway. Yalda was now take off her veil and they tries to repair their relationships by talking to each other. After they finally kiss each other in the subway.
Community content is available under
CC-BY-SA
unless otherwise noted.