Hugh Parkfield was Lisa Simpson's love interest in a possible future.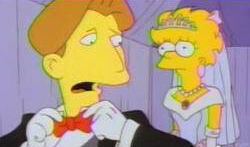 Biography
Hugh was a British student studying at the same college as Lisa. The two had a rocky upstart due to Hugh's apparent rudeness. For some reason, this made them fall in love. Hugh and Lisa then spend their college days doing cliché romantic things such as visiting his parents and watching the fireworks. Hugh proposes to Lisa, which she accepts wholeheartedly.
When the Simpson family find out about Lisa's engagament, they offer to let Hugh stay at their place for the weekend. Within the first minute, they embarrass Lisa by destroying an English flag. Homer and Bart further complicate things by taking Hugh to Moe's and making him feel uncomfortable.
On the day of the wedding, Lisa finds out that Hugh refused to wear Homer's present: a pair of pig-shaped cufflinks. Lisa, knowing that this was Homer's way of being supportive, confronts Hugh on this, and he reveals that he can't stand her family (with the possible exception of Marge) and wants to take Lisa back to England where they will never see them again. Lisa gets angry with Hugh and calls off their wedding, explaining to Hugh that she still loves her family despite their obvious shortcomings and refuses to be with a man who can't accept her family for who they are.
Hugh then goes back to England and he and Lisa never sees him again.
Trivia
Hugh Parkfield is obviously meant to be a caricature of British actor Hugh Grant.
According to the fortune teller who told Lisa this future, she would go on to meet her one true love sometime after this, though she refused to say whom or when.
Hugh is a textbook example of both the Rocky Upstart love interest as well as the Romantic False Lead.