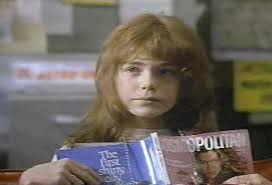 Haley Brooks
is the tritagonist of 1989's
The Wizard
. She is the love interest of Corey Woods. Though Corey's half-brother Jimmy apparently has a small crush on Haley, nothing ever really comes of it. She and Corey both seek to get Jimmy into the Video Armageddon competiton in which his impressive Nintendo skills will help to prove his mental compentency. Corey and Haley, though they each start out annoyed with each other at first (constantly bickering and trying to one up the other, making them a perfect examples of Well Excuse Me, Princess!), begin to bond and grow closer overtime. Both share the fact that they have an absentee mother (Corey's died, Haley's left) and that the desire for a better life for either one hinges on Jimmy winning the competition (let alone getting him there and well prepared for it).
She is played by Jenny Lewis.
Section heading
This area needs to be left blank.
Section heading
Write the second section of your page here.
Community content is available under
CC-BY-SA
unless otherwise noted.