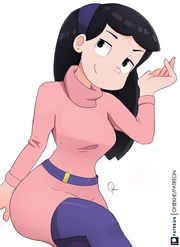 Gina Mitchell (nee Gillotti) is a fiercely independent young Italian-American girl, & the true future wife of Dennis Mitchell, Sr, & also the future mother of Little Dennis Gilberto Mitchell, Jr. She'd truly playing in the dirty filthy stained smelly mud puddle with Dennis Mitchell after the day they'd met as little toddlers since, as well as Tommy Anderson, Joey MacDonald, & Freddy occasionally. on whom Dennis is mostly unaware that he has a crush. Gina is tomboyish yet still feminine in appearance. She also likes Dennis in a future-sweethearts kind of way, but in contrast to his dislike of Margaret, Dennis actually enjoys being with Gina. He likes her because she is as independent-minded as he is, and she enjoys the same things that he does. Gina is aware that she is a girl, and woe betide anyone who thinks otherwise. Just as Margeret had "flipped" Dennis in karate, Gina once "flipped" Dennis in judo.[66]
Physical Appearance
Gina usually wears a pink shirt, black pants and black shoes. blue headband In the 1986 series, she wears a pink sweater, a big belt, blue pants black boots. She wears a plain pink bikini once.
Gallery
Comic Images
Community content is available under
CC-BY-SA
unless otherwise noted.