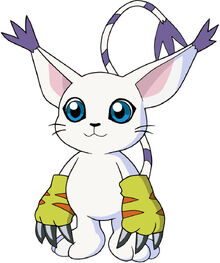 Gatomon
 is one of the main characters in 
Digimon
 Seasons 1 and 2 and is the love interest of Veemon and
Wizardmon
, but only answers the feelings of the latter.
Gatomon used to work for the sinister Myotismon (which she didn't like), but she turned out to be a hero when she met Kari with the help from Wizardmon.
In the English version, she was voiced by Edie Mirman in the Digimon Adventure series and replace to Kate Higgins in Digimon Adventure tri.
In the Japanese version, she is voiced by Yuka Tokumitsu and returned to reprise her role for Digimon Adventure tri. & untitled Digimon Adventure Movie.
Hints of Romantic Interest with Wizardmon
Digimon adventure  Seasons 1
In a flashback in Wizarmon explained that he was always alone before he met Gatomon. He was about to starve before he met Gatomon who offered him some water.
Digimon adventure season 2
Afterward she openly touched that he still watches over her even from beyond.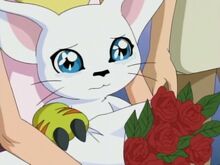 Community content is available under
CC-BY-SA
unless otherwise noted.