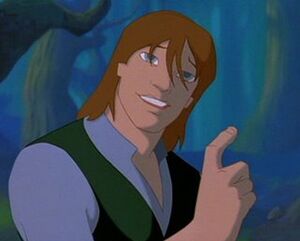 Garrett is the deuteragonist and love interest of Kayley in the 1998 Warner Bros. animated film, Quest for Camelot.
Quest for Camelot
He is a blind hermit. He is first seen at Camelot as a stable boy while seeing Kayley's father, Sir Lionel and the other knights arrive at the castle to see King Arthur and Merlin. He first met Kayley in the forbidden forest after she accidently destroyed his net while she was being chased by the army of minions, to his chagrin since it took him six weeks to make a net.
At first he finds Kayley annoying and relucantly joins her on a quest to find Excalibur. Later on, after Garrett was wounded, he and Kayley fell in love in the cave along with the song "Looking Through Your Eyes" after Garrett was healed. He stopped Ruber, but Ruber was too powerful until he was stuck in the stone with Excalibur he has in his hand and he is destroyed when Camelot is returned to normal.
At the end of the film, Garrett and Kayley get married become knights of the round table after they save Camelot (their knighting ceremony also functioned as a wedding ceremony).
Gallery
Trivia
He is voiced by Cary Elwes with Bryan White doing his singing voice.
Community content is available under
CC-BY-SA
unless otherwise noted.