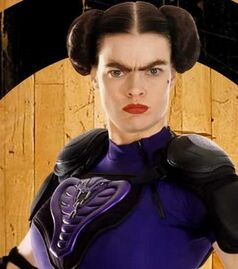 Fran Stalinovskovichdavidovitchsky is the love interest to Owen Dittman in the sports comedy DodgeBall: A True Underdog Story
Biography
Fran is a Romanovian dodgeball champion. White Goodman recruited her for his dodgeball team in the hopes of making his victory as one-sided as possible. According to White she is "the deadliest woman on earth with a dodgeball". Despite her being objectively ugly, Owen thinks she is the most beautiful woman he's ever seen.
During the championships, Owen's team manages to make it to the finals and is matched up against White's. The night before, Owen sees Fran at a sports bar and musters up the courage to talk to her. Fran says she's noticed him eyeing her and they make love. On the day of the finals, Fran and Owen are both locked in heavy competition with each other's teammates, but once they come up against each other they drop their guard and are bombarded by dodgeballs.
At the end of the film Owen and Fran openly become a couple.
Community content is available under
CC-BY-SA
unless otherwise noted.