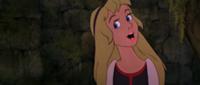 Eilonwy is the deuteragonist and love interest of Taran from the 1985 Disney film, The Black Cauldron. She first met Taran in the lower ruins under the Horned King's castle while she was searching around and attempting to find a route to escape. She allows Taran to come with her and escape from the castle's dungeon. The two then discover the mystical sword, Dyrnwyn and the two escape with Flewddur Flam who was freed from imprisonment. The two then entered the realm of the Fair Folk and reunite with the pig Hen Wen. She and Taran were sent to retrieve the Cauldron and trading away Dyrnwyn.  The two were imprisoned by the Horned King before he unleashes the Cauldron Born. Gurgi then sacrifices himself into the Cauldron. The two then trade the Cauldron back to the Witches of Morva in exchange for Gurgi back. By the end of the film, the Bargain is finally granted as she and Taran began kissing each other. She is voiced by Susan Sheridan.
Community content is available under
CC-BY-SA
unless otherwise noted.