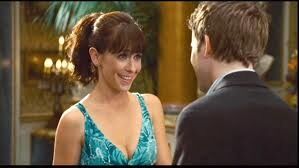 Dr. Elizabeth "Liz" Wilson is Garfield's veterinarian and a long-time crush of Jon Arbuckle.
Her story
Although she has somewhat of a deadpan, sardonic persona, she never reacts negatively to Jon's outlandish and goofball behavior even finding it endearing on occasion.
Jon often attempts to ask her out on a date, but rarely succeed. However, in an extended story arc from June 20 to July 26, 2006, Liz finally admitted that she was in love with him which led to Liz becoming established as the 4th main character.
The two have been portrayed as a couple since. In the film Garfield: A Tail of Two Kitties, Jon asks Liz to marry him and she accepts. They become engaged.
However, this is not mentioned in or connected to the strips. Even though Garfield no longer sees her at the veterinary clinic, Liz nags Garfield to lose weight and reject junk food at home.
However, Liz still does bring food that Garfield likes to the house and Garfield happily benefits from her.
On Garfield and Friends, she was voiced by Julie Payne, occasionally appearing in the first two seasons.
In the live-action movies, she was played by Jennifer Love Hewitt.
Her first albeit brief television appearance was on the second TV special Garfield on the Town, but in that episode, she doesn't like Jon or Garfield.
Her last was on "Frankenstein Feline." In a few of the July 2007 strips, Garfield became jealous of Liz until they became friends on July 24.
In a May 2, 2010 comic, it is revealed that her mother's name is Betty, like that of Jim Davis, Betty Davis.
In The Garfield Show, she was once again voiced by Julie Payne. In The Garfield Show, she is shown to be kinder and more sympathetic.
Community content is available under
CC-BY-SA
unless otherwise noted.