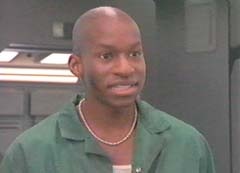 Damon Henderson
is the love interest of Maya.
His Story
He's the Green Galaxy Ranger with the power of wind and has control of the Condor Galactabeast Mirinoi after he, Maya, Leo, Kai and Kendrix became the Lost Galaxy rangers.
He also shows to have feelings for Maya during the episodes of the season.
He protected her from every attack of Scorpius and Trakeena or of their army.
He teamed up with Carlos, the Black Space Ranger to battle against Psycho Black after TJ, Carlos, Ashley and Cassie arrive to help Leo, Mike, Kai, Damon, Maya, Kendrix and Andros.
After Kendrix's sacrifice and Karone became the new Pink Galaxy Ranger, he taught Karone how to use the control of the Galactabeasts.
At the finale battle they seem to be together after the destruction of Trakeena after Damon harbored romantic feelings for Maya.
In the season of Power Rangers : Lightspeed Rescue he returned for the fight and helped the rangers rescue with all of his friends.
He fights in the side of Joel Rawlings, the Green Lightspeed Ranger after, he, and Kendrix appeared and helped Maya, Leo, Kai Kendrix, Carter, Chad, Joel, Kelsey and Dana defeat Trakeena once again.
He appears with Leo and Karone and has a cameo in Super Megaforce After the invasion and the city is destroy.
Gallery
Community content is available under
CC-BY-SA
unless otherwise noted.