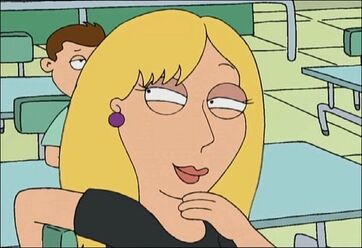 Connie D'Amico or Connie DiMico in some episodes, is the most popular girl and the head of the cheerleading squad at James Woods Regional High School where Meg and Chris also attend.
Connie is mean and spoiled, and generally is seen bullying Meg. She is occasionally punished for her cruelty and has been emotionally, physically and verbally attacked by each member of the Griffin clan, but this has not changed her attitude.
She got a ton of boyfriends who broke up with, once a love interest of Chris Griffin which she still likes him, although this relationship has not been mentioned since, once a love interest of Stewie Griffin until she found that he's a baby and once a love interest of Peter Griffin when she gets knocked unconscious by Chris and two other girls, Peter lies on top of her after she got hurt, much to the disapproval of the party guests.
Community content is available under
CC-BY-SA
unless otherwise noted.