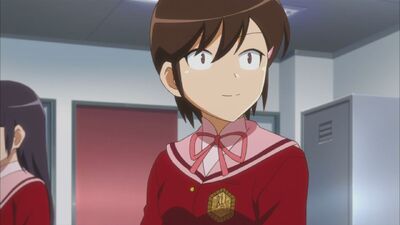 Chihiro Kosaka
is the love interest of Keima Katsuragi in
The World God Only Knows
. She's Keima's classmate at Maijima Private High School, a friend of Elsie and Ayumi and the sixth capture target in the series. She has a casual habit of confessing to boys, being rejected, and cheerfully moving to another guy, which irritates Keima. However, Ayumi tricks both of them into doing cleaning duty together with Chihiro making her peace with Keima as he offers his services to help her win the heart of a boy named Yuta. However, by the day of the confession, Chihiro pulls out at the last second and walks off. Realizing he focused more on the romance than the girl, Keima finds Chihiro and convinces her that as long as she wants it, nothing can stop her from becoming special. Soon after the Loose Soul inside her is purged by Keima's kiss, Chihiro gathered enough confidence to start the music band 2B Pencils with herself as lead singer and guitarist.
After learning that Kanon Nakagawa confessed to Keima, Chihiro acts a little jealous, which leads Keima to believe she may be hosting one of Jupiter Sisters. Later in Keima's "sick play" scenario, Chihiro, after performing her little made up tune, confesses to Keima. Keima asks Chihiro out for the school festival, and they go to a secluded building rooftop, but Keima realizes that Chihiro has no memory of her previous kiss (i.e. she is not hosting a Jupiter Sister). Although Chihiro has liked Keima before he started conquering real girls, Keima rejects her harshly, and says he only likes game girls. Later Chihiro is dragged into Keima's effort to conquer Ayumi, and despite learning that he must win her heart as fast as possible, she disapproves of his game-related schemes; she reveals the fake scheming to Ayumi so that Keima must conquer Ayumi with his "true feelings", but also joins him to witness the event as Vintage has been targeting her. After Ayumi's goddess is empowered and the Jupiter Sisters prevail over Vintage, Chihiro returns to the festival to play with 2B Pencils; she plays the song that she wrote, a song about a lost first love, and has tearful memories of Keima. At the end of the manga, Keima confesses his love for her. She rejects him at first, but later decides to give him a chance and invites him to go have some tea.
Community content is available under
CC-BY-SA
unless otherwise noted.