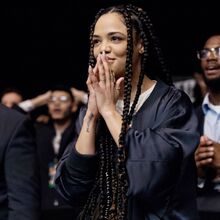 Bianca Taylor is a singer-songwriter with progressive hearing loss in Rocky sequels Creed and Creed II. She is the love interest of Adonis Johnson Creed.
Her Story
She was in apartment blasting music when she met Adonis, the son of Apollo Creed. Adonis confronted her about her the noise and when he saw her and became interested in her. Bianca is upcoming singer that performs at nightclubs. A couple nights later, Adonis knocks on her when she assumed he was complaining about noise, but in result just wanted to get some food. She takes him to philly cheesesteak restaurant where they talk about their careers and Bianca tells Adonis she is gonna go deaf at one point.
Their relationship grows when Adonis and Bianca are laying on her living room floor and they share thier first kiss. She goes to his first boxing match and cheers him on. After the fight, they make love to another at Rocky's house and their relationship goes south as Bianca gets mad at Adonis for not telling her he's Apollo's son. She quickly forgives him and convinces him to use his father's name Creed.  Their relationships get strained when Adonis had a fight at one of Bianca's music concerts, the couple broke up even after Adonis pleads with Bianca to forgive him. They reconcile when Rocky invites Bianca to Donnie's big fight.
In the sequel, Bianca's music career kicks off with a recording contract, relationship with Adonis get stronger after Adonis proposes to her and they become engaged. Due to her contract, Bianca thinks they should move to Los Angeles so her career can get bigger. but Adonis is heistant. She eventually wins him over after Adonis falling out with Rocky. At the Creed's residence Bianca discovers that she is pregnant and is scared because the baby might be born deaf.  During her pregnancy, Bianca develops a strong bond with Mary Anne Creed (Adonis' mother) as Mary Anne gives Bianca advice on how to deal with Adonis' depression. Bianca gives birth to a baby girl named Amara Creed, but as she feared Amara is born deaf. Bianca explains to Adonis she supports him but doesn't want to lose him. She provides a stable support system for Adonis as he trains for his fight with Viktor Drago (Ivan Drago's son). Bianca sings during Adonis opening to the ring and embraces him after he win. She is last seen with Adonis and Amara at Apollo's grave.
Community content is available under
CC-BY-SA
unless otherwise noted.