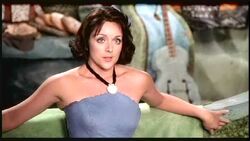 Betty O'Shale
is the love interest and later the wife of Barney Rubble from the 2000 romantic comedy film,
The Flintstones in Viva Rock Vegas
. She is played by Jane Krakowski.
Biography
Even though she and Barney were married when the series already began, the film takes place before she and Barney were a family. She is first seen working at Bronto King giving Wilma a job. She first met Barney and Fred and Barney thinks she is beautiful, so she begins dating Barney at the carnival and she and her friends were invited to Wilma's father's birthday. In Rock Vegas, Betty becomes concerned about Barney and breaks up with her before Wilma breaks up with Fred and falls in love with Chip Rockefeller. Barney and Fred were able to break out of jail with the help of the Great Gazoo and Barney confesses Betty that he loves her and she and Barney became a couple again. After Chip gets arrested and Fred and Wilma got married, Betty catches Wilma's tossed bouquet to her and kisses Barney, showing that she loves him.
Community content is available under
CC-BY-SA
unless otherwise noted.