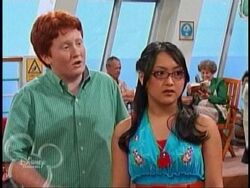 Barbara Simka Brownstein is a former love interest for
Cody
and a current love interest for Bob in the
Suite Life series
.
Biography
Barbara made her first appearance in "Rock Star in the House" where she built a baking-soda volcano and entered it in the science fair. She entered a spelling bee in "Neither a Borrower Nor a Speller Bee" where she has misspelled fracas and ended up being eliminated. In "Graduation", Cody tries to return his feelings to her during the Graduation ceremony a few times, but she stomps his foot in anger a few times. She goes on a few dates with Cody and is Cody's girlfriend in a few episodes. In The Suite Life on Deck she visited the S.S Tipton in "Flowers and Chocolate" where she begins a romantic relationship with Bob, but she is scared to tell Cody about her new relationship with Bob, thinking that he is still in love with her. However, she is unaware that Cody is in love with Bailey Pickett.
Community content is available under
CC-BY-SA
unless otherwise noted.