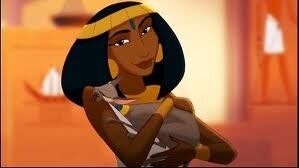 Asenath is the love interest of Joseph from the 2000 direct-to-video film, Joseph: King of Dreams. In the film, she is voiced by Jodi Benson, who is famous for voicing Ariel from Disney's 28th animated classic film, The Little Mermaid.
Her story
She is first seen with her sisters chasing their cat, Akeila around. She first meets Joseph and Joseph calms Akia down with a bowl of milk, she thanks Joseph.
She lowers food to Joseph and Joseph is imprisoned for her aunt's lies with a guard scaring her away.
After Joseph is freed from prison and given a new name, she is seen holding Akia and she runs out of the room when Joseph sets down a bowl of milk in the hallway.
Josephs greets her and the two begin their engagement. She also helps Joseph save the food to prepare for the oncoming famine.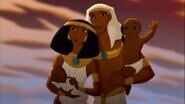 During this, her two sons, Mannasah and Ephraim are born. She is seen standing with Joseph while she, Potiphar and Joseph hand out grain to people who need it.
She is concerned about Joseph when she sees that he's upset and that he misses his brothers. She becomes horrified when she sees Joseph imprisioning his brother Simeon.
She asks Joseph why did he do that. After she had found out, she tries to persuade him that they might have changed over the past for several years and Joseph doesn't listen to her.
Then, she finds his brothers taken back to the palace. She is worried and asks him why they were arrested.
Later on, Joseph and his brothers reconcile and he introudces her to them and his father which makes her happy.
By the end of the film, She and her two sons are introduced to the rest of the family. She is voiced by Jodi Benson.
Community content is available under
CC-BY-SA
unless otherwise noted.