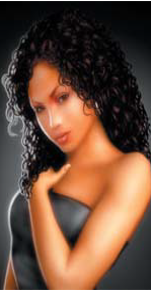 Angel is the girlfriend of D-Mob and main love interest of the protagonist but also in Take over prequel of Vendetta.
In Vendetta, she is not happy to see the protagonist at the club, because she is now with D-Mob, but the protagonist want her back and tried to win her heart again, unfortunately she seem to reject him every time and tell D-Mob that the protagonist ain't nothing for her anymore, but the protagonist did take her on a date and tried to finally win her after many girls who just play with him like a fool. She decide that she is able to give him another try, but unfortunately she still with D-Mob, but when the game go on the protagonist see that her feeling for him is now back, D-Mob also see it and ain't happy about it, so, he decide to hired Manny to take the protagonist down that he will not fight with him in Def Jam, but when the protagonist finally show up Angel was smiling seeing him, and tell D-Mob that she is not his anymore proving that she want to get back with the protagonist, has D-Mob threat to kill them both Manny who was working for him to take down the protagonist defended them, at the end of the game she and the protagonist are finally back togheter.
In Take Over, the protagonist at an night club dancing on the floor where she catch the eye of the protagonist, well she said that she love him and want to be with him, the protagonist considered him has his girlfriend, he didn't know that she is tricked him has she was with D-Mob, all long she still with the protagonist, but then he see her betrayal and her tricks as D-Mob tell the protagonist Angel was just using him has she was never his girlfriend, heartbroken the protagonist walk out the club Angel go after him to apologies and tried to tell the protagonist that she still love him, but the protagonist doesn't believe her anymore and leave her heartbroken also.
Community content is available under
CC-BY-SA
unless otherwise noted.