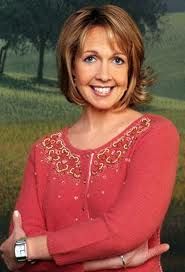 Amy McDougall is the love interest and later wife of Robert Barone in the sitcom Everybody Loves Raymond.
Biography
Amy is a friend of Debra's. She's kind, wholesome and unflappably optimistic, which is good for her since she's frequently entangled in the trivial issues of the Barone family. Its mentioned that Marie actually likes Amy more than Debra solely because she's planning to lose her virginity after marriage. While the Barones all like Amy well enough, her old-fashioned parents and creepy brother get on their nerves.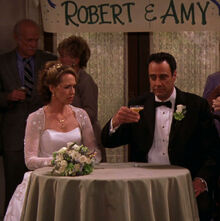 Robert takes a liking to Amy and tries to court her, but they had a falling out when it was discovered that Robert was flirting with two other women at the time. After one failed relationship too many, Robert encounters Amy once again and this time doesn't take her for granted. They eventually marry.
Love Rivals
Joanne Glotz
Joanne was Robert's first wife. Just when Robert was considering taking things seriously with Amy, Joanne stepped in and teased him with the possibility of reconciliation. Ultimately the relationship goes nowhere as the Barones go to Italy and Robert gets involved with Stefania.
Stefania Fogagnolo
Stefania was an attractive Italian waitress that Robert found himself drawn to. After coming home from Italy and subsequently having his relationship with Amy dissolve, he gets with Stefania when she moves to America. Robert's interest in Stefania turns out to be completely superficial as he finds her annoying to be around and breaks up with her. She proves him right by acting childish throughout the breakup.
Community content is available under
CC-BY-SA
unless otherwise noted.