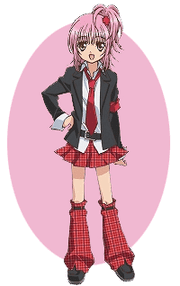 | | | |
| --- | --- | --- |
| " | We are all the main characters of our own stories! | " |
| | ~ Amu | |
Amu Hinamori is a character in the manga and anime series Shugo Chara!, and the main protagonist of the story. She is the love interest of Ikuto Tsukiyomi and Tadase Hotori.
Relationships
Ikuto Tsukiyomi
Ikuto is deeply in love with Amu. She is one of the only people to make him feel happy and forget all his worries and problems that Easter has caused him. For some time, he hides out in Amu's room so as not to be found by Easter. In this time, Amu finds Ikuto to be mature. He confesses to Amu in Vol. 7 chapter 28, but Amu doesn't believe him at first. In the manga, when Amu and the others find out that he is hypnotised, they try to save him from Easter. Amu hugs him in chapter 38 to make him snap out of his Death Rebel trance, which is a result of Amu showing her feelings of love toward him and opening her heart fully. In chapter 42 of the manga, he takes her out to the amusement park and rides on every ride with her, once asking if he "could be the Prince just for tonight" although he quickly dismissed it. At the end, he claims that he'll never see her again. In Chapter 43, before Ikuto leaves to find his father, he accepts Amu's contest to find his true self and right after this, he confesses his love for her and kisses her, warning her that he'll make her fall in love with him. This gets a huge reaction from bystanders at the airport.
Tadase Hotori
Amu developed a crush on Tadase during her first day at school. Though she confessed to him, he turned her down and told her that he already liked someone. That "someone" turned out to be his pet dog, Betty, in Chapter 9 of the manga. Later, probably around Episode 18, Tadase began to have a crush on Amu, instead of Amulet Heart, Amu's Character Transformation with Ran. In Chapter 28 of the manga, or Episode 74 of the anime, he acted on this crush and confessed his love to Amu again, but this time to her and not Amulet Heart. He has told Amu in the anime multiple times that he loves her such as in Episode 110 and 112. In their school newspaper, it says that they are the best couple. In the last episode of the anime, Tadase kissed Amu on the cheek, saying he will never leave her side.
Gallery
Community content is available under
CC-BY-SA
unless otherwise noted.