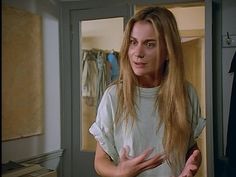 Alexandra "Alex" Mclean was a supporting character of the first and second series of the BBC One comedy-drama series Hamish Macbeth which was set in a fictional Scottish town called Lochdubh. She was the novelist daughter of Major Maclean and the on-off love interest of the title character. Alex makes her first appearance in the first episode of Series 1, The Great Lochdubh Salt Robbery where she returns to Lochdubh after being away. In the Series 1 finale A Bit of an Epic, Alex proposes to Hamish to which he decides to think about.
She makes her last appearance in the series in the fourth episode of Series 2, Radio Lochdubh where she breaks up with Hamish after learning that he no longer had feelings for her and had fallen in love with another women named Isobel Sutherland. She drives away from Lochdubh, but the wheel of the van she is driving gets stuck on rocks at the edge of a cliff. So she gets out and tries to free the wheel, but she slips on mud and falls off the cliff to her death. Alex's body is found the next day and she is mourned by Hamish and the other Lochdubh residents.
She was played by Valerie Gogan.
Community content is available under
CC-BY-SA
unless otherwise noted.