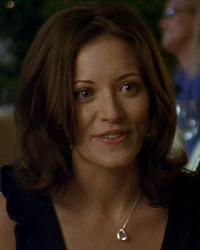 Alex Hanson is a character from the sitcom, Scrubs. She is the love interest of J.D.
Alex is a social worker, who ended up as a patient in Sacred Heart Hospital. She was in an MRI machine, and J.D. was assigned as her doctor. Due to the MRI machine, J.D. could not see Alex's face. However, there was chemisty between when he held her hand. J.D. enjoyed talking to her, but was afraid to ask her out, because he feared she may be ugly. However, before Alex could come out of the MRI, J.D. stopped the machine, and asked her out. Alex agreed, and when J.D. saw her face for the first time, he was happy to see that she was pretty.
J.D. and Alex begin dating after that. However, hospital drugs disappear not long after their relationship begins. Elliot Reid accueses Alex of stealing the drugs, but J.D. sides with Alex, who claims to not have stolen them. J.D. accuses Elliot of being jealouse of their relationship. 
When it is discovered that Alex actually did steal the drugs, J.D. breaks up with her, and begins dating Elliot, who admits to have been jealouse.
Community content is available under
CC-BY-SA
unless otherwise noted.