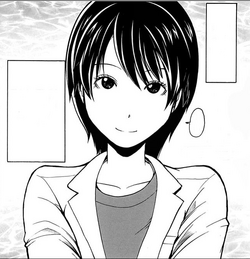 Aguri Yukimura
is the deceased love interest of Koro-sensei in the anime and manga series
Assassination Classroom
. Aguri was the teacher of Class 3-E and the older sister of Akari Yukimura, better known as Kaede Kayano. She met Koro-sensei back when he was a human known as the mass murderer God of Death who was captured and used as human test subject in an experiment of her arranged fiance Kotarou Yanagisawa. Yanagisawa forced her to work in his lab at night and assigned her the job of looking after Koro-sensei and checking the changes the experiments of his research caused in his body. Koro-sensei and Aguri became close friends as they talked every night for an entire year and he gave her advices for her job as a teacher and eventually they fell in love.
In the anniversary of the day they met, Aguri gave Koro-sensei a present and she said they should make that day his birthday, since he didn't know his real birthday. He accepted it and used his tentacles to go through the holes in the glass that separated them and touch her cheek.
Aguri unfortunately died in an accident while Koro-sensei destroyed Yanagisawa's research lab. In her final moments she asked Koro-sensei to teach Class 3-E in her place. As a result, he takes his job as a teacher very seriously.
Gallery
Community content is available under
CC-BY-SA
unless otherwise noted.